7 About us
Global SARS-CoV2 ( COVID 19) Plan B Strategies for towns and city suburbs to cure their Young & Old ending the Global COVID 19 Pandemic.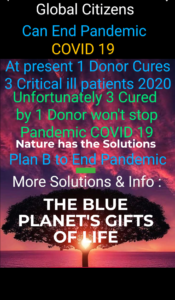 21 April 2020, Cameron Reed, Siobhan Brogan Campbell, Douglas Campbell
Plan B strategies for cure procedures for the elderly, vulnerable and the healthy, which will see global economies and tourism recovering, due to the end of the COVID 19 pandemic.
Bellow are medical scientific links:
Eaglesaquaguardians.org
The website was made to help people aid and help Nature to curb global warming and climate change.View Eco-Sketches /Drawings and Eco-Videos for you to know and understand us, thank you.
At present trying to get as many global citizens to realise that if they start Plan B COVID 19 strategies in their own town or city suburb they can then help far more of their community members recover from being infected with COVID 19.
Global citizens will then be able to get out of lockdown to restart their economies on the basis that they have "Plan B Cure Strategies" in place for their young and old to be afforded the safest and quickest routes of treatments to recover from SARS-CoV2 ( COVID 19).
Global citizens need to release that they need to use their collective problem solving brain power to counter act the effects of SARS-CoV2 ( COVID 19).
At present their is only one cure that is the quickest and safest that achieves what vaccines are designed to do, which is to allow the human body to make copies of antibodies that prevent a virus from being able to multiply.
***** This one cure is a dose of plasma from donors who have recovered from COVID 19.
* Today's medical technology can already screen blood and plasma for diseases, which can eliminate disease contamination.
* Donors who were previous blood donors will have disease record testing.
* New Donors can be screened and a month later screened again to determine if their plasma antibodies can be used.
* This will minimize disease and pathogens in plasma doses.
***** Laboratories can already mass produce antibodies from plasma donors, which will increase the volume of human antibodies available to towns and city suburbs, as well as increasing the " Global Gene Pool of Human Antibodies".
Links:
https://www.sciencedaily.com/releases/2017/07/170724105119.htm
* Unfortunately some of the antiviral drugs do not work so well if COVID 19 is well established and draws out the recovery period, which results in more lung damaged.
But if people prefer to take their chances with antiviral drugs over the plasma dose, then it would be their choice, but at least they can have a back up choice to the quickest cure that minimizes their lung damage, as well as if they are losing the battle against COVID 19 with antivirals.
***** NB NB NB : Global Citizens need to view the medical scientific data on COVID 19, as when people have a longer healing period with antiviral drugs lung damage can be greater which causes lung tissue to breakup and enter the blood stream to be filtered out by the liver.
NB NB medical science shows a thickening of the blood and clotting is seen, this has causes an increase in strokes and heart attacks, blood thinners are used.
NB NB Problem is that if you want to end the Pandemic by drastically reducing the global death rate, then the plasma dose would be the quickest cure, that reducing lung tissue breakup which will prevent strokes or heart attacks.
* The plasma dose of human antibodies sees recovers in 3 days and will stop the virus from causing further lung damage in the shortest and quickest time, which would ease the mental stress and fear of global citizens who are afraid that if the contract the virus their lungs will be destroyed and they will suffocate and die.
***** The human plasma antibodies will stop the massive global death rate of the elderly, the vulnerable and those with underlining medical conditions, which then ends the " Global Pandemic of SARS-CoV2 ( COVID 19), for Plan B Cure Strategies are in place.
***** At present there is a global drive and campaign to restart schools and worlds world's economies, with talk that it will aid citizens to become infected so as to build global " Herd-immunity"when they recovery, unfortunately with no Plan B Cure strategies in place to cope with the explosive of a self induced 2nd wave of COVID 19, it will cause global hospitals to be over flooded and cause many global citizens to not be able to get medical treatments.
***** Global media have already reported that during the 1st wave of COVID 19 the following was observed:
– Many citizens were turned away from receiving medical treatments at hospitals due to " Triage Assessments" that deemed them having too low a chance to survive the virus.
– Citizens with medical aid were triaged assessed and many without medical aid were denied treatments at hospitals.
– Hospitals at one stage were said to be denying 50 year olds and above access to treatments and treatments were given to those who had better chances of recovering from the virus.
***** At present global citizens who have been exposed to SARS-CoV1 have developed N ( N 10) antibodies that sees them recover from SARS-CoV2 much quicker.
* If people could be tested for having N 10 antibodies, they would then know that they have better chances of surviving the virus, even if they use the antiviral drug route.
Links: N antibodies of people who have recovered from SARS-CoV1.
***** Again this highlights the advantage of the human plasma donor route.
***** For even the Spanish Flu was beaten by using blood donors with their antibodies, who had recovered from this virus, more than a 100 years ago.
***** Again highlighting the advantages of the human plasma route that was " Proven Scientifically as a cure more than 100 years ago".
***** The plasma dose will also heal people fast and stop lung tissues being destroyed, which will enter the blood stream to be filtered by the liver, unfortunately blood clots cause strokes and heart attacks, which increases the global deaths of COVID 19.
***** Again the plasma dose showing the advantages.
* Medical Scientific data already shows:
Links:
– That Medical doctors are making "Social Videos" stating SARS-CoV2 (COVID 19) over stimulates the immune systems to over produce antibodies which can compromises the lungs of many who have been infected.
– Vaccines being developed are being encourage to use " aluminum hydroxide" which is used to over stimulate the human body to produce antibodies.
***** Now if COVID 19 can already over stimulate the immune system to produce to many antibodies, then the Plan B of a dose of human plasma antibodies will allow the newly infected citizens to quickly make copies of the antibodies that destroy SARS- CoV2 viruses.
*** NB NB Due to there being so many antibodies present they would soon flood the body with copies of to reach many parts of the body to rid itself of the virus.
***** Medical staff could be protected by plasma doses, as globally hospitals are losing a lot of staff, due to their high exposure to COVID 19 viruses.
This Plan B strategy would also ease the mental stress currently being experience by many medical staff, which would then afford them the ability to perform more proficiently in their profession.
– Link: vaccines-08-00153-v2 (1).pdf.
( 2020. Progress and Prospects on Vaccine Development against SARS-CoV-2 )
( View: Medical Insights,Understandings and Safety Concerns).
– Link: AVT-06-OA-0209_Dong (1).pdf.
–
–
***** "Global COVID 19 Plan B Strategies" for Citizens to consider implementing in their town or city suburb :
* Many of the elderly and vulnerable are on chronic medication, that cause shortness of breath and many other side effects.
* Their bodies can not handle the anti-viral drugs being used to cure some in 3 to 6 days.
* Their chronic  medication already compromises their body's ability to heal or recover, as 50% of medication has hydrochloride salts that turn to hydrochloric acids that cause many side effects and said to also restrict  " Red Blood Cells" from being able to carry sufficient oxygen, hence the shortness of breath and pale complexion.
– Plan B strategies, would be to give them access to the human antibody plasma donor route, that is seeing critically ill patients recover in 3 days, this route would see the least amount of stress on the bodies of the elderly and vulnerable.
– Plan B would be to fly these human antibodies anywhere in the world, for laboratories can already mass cultivate and produced human plasma antibodies, which would increase the " Global Gene Pool of Antibodies" as a Plan B strategy against any mutations or strains of COVID 19.
– Laboratories already have the capacity to screen blood and plasma for disease pathogens, which eliminates the possibility of diseases being past on.
******* Links to Laboratories cultivating human antibodies :
The Plan is to afford each town and city suburb the opportunity to implement their own Plan B Strategies:
* Start go funds, fundraisers and local business to donate to their own town or city suburb's Plan B strategies.
Why? Because the sooner Plan B strategies are implemented globally, the sooner the COVID 19 Pandemic can be ended, to allow tourism and worldly economies to be restarted.
* 100% of the money goes into the town or city suburb from where it originated from.
* 80% goes to securing nasal oxygen for community members who struggle with COVID 19 and will need to self-medicate at home, due to hospitals being over flooded. Machinery can be purchase to bottle medical oxygen, portable oxygen devices and system oxygen units to be housed in town and church halls.
***** Global citizens need to realise that they will require Plan B strategies for people from their community, to be able to self-medicate at home, in town and church halls, for even those with medical aid will not find space in hospitals to receive treatments.
* Antiviral drugs can be purchase for those who can handle these drugs medically.
The combined towns and city suburbs of a country will allow them bulk buying of anti-viral drugs.
Laboratories will be able to receive human antibodies from anywhere in the world.
This would mean that there would always be human antibodies that have beaten any strains or mutations of COVID 19.
* 15% goes to production of produce and quick protein sources for the town or city suburb, for at present many people have lost their source of income and are going to need help with food.
***** Global citizens need to realise that people will need major help with food, and once the Pandemic has been stopped people can
Plan B strategies would be to encourage fresh home produce sharing, as a quick temporary measure to help their community and themselves.
" Fresh Home Grown Produce Sharing"
Global citizens often hear of many of the poor being " Hungry" and a goal of the United Nations to end hunger.
Now would be a good time to start farms dedicated to feeding the poor, hungry and those who have lost their source of income.
***** People will often hear the saying " Give a man a fish you feed him for the day, but teach him how to fish and he will feed himself".
**** Farmers
NB NB Global Citizens would be more inclined to support their own town or city suburb's Plan B strategies.
The bonus is that a " Global gene pool of human anti-bodies would be built up fast, so this human trait of self- preservation will aid the " Global gene pool of anti-bodies" which can be flown anywhere in the world.
* 5% goes to eco projects of that town or city suburb that aid clean drinking water to community members and for production of fresh produce and quick protein sources.
* NB NB NB Anyone interested in trying to bring about Plan B Strategies being implemented in your town or city suburb, you can contact me via email or social media links, if you wish to want to be part of Plan B strategies that end the COVID 19 Pandemic.
* I'm going to start go funds, fundraisers and encourage local businesses to help their community start Plan B strategies in their town or city suburb.
* The beauty is that by using the go fund platforms, the money will go straight to the town or city suburb of the country it came from.
Once the Plan B strategies are started the money can then go straight into that town or city suburbs Plan B Strategies account, for it would then have been implemented.
* I am going to sea for 8 days and Yvonne Brogan and Siobhan Brogan Campbell will be able to correspond and ask for the funds to be sent to the town and city suburb of the country they originate from, by networking with people from these towns and city suburbs.
* The "go funds" will be a simple matter of naming town or city suburb and country for donations to start their Plan B Strategies.
Town or city suburb:……Country:  ……..
Global citizens should also choose to have hope for it creates a sound mind, body and soul that aids the immune system to function better.
Many cultures, believes, faiths and religion have many names for God, at the moment many people say why would God allow the COVID 19, unfortunately many forget that to have a physical world of pleasure, fruits and joy, there would have to be pain too, for without it there would be no " Free Will" and everyone would be on a puppet string, so what ever you believe hang onto it, for self doubt will weaken your mind and your immune system.
Choose hope and I hope you see the advantages of planning head and that Plan B Strategies are implemented in your own town or city suburb.
If you don't try you can not fail or win.
Will edit and add to the website and will try keeping to help, for right now many depend on you, your actions right now could save your community, friends and family.